Home Care in Chester Springs
When you fill out this form, you can expect to hear from one of our caring home care experts. We will answer your home care questions.
What is Home Care in Chester Springs?
With a range of services tailored to meet the needs of individuals in need of assistance, in-home care providers in Chester Springs provide valuable support and enhance the overall well-being of the community. These providers offer a variety of services, including personal care, companionship, and medical assistance. Personal care services may include help with activities of daily living, such as bathing, dressing, and grooming.
Companionship services aim to alleviate loneliness and provide social interaction for seniors, promoting mental and emotional well-being. In addition, in-home care providers may also offer medical assistance, such as medication management, wound care, and monitoring vital signs.
What Services Are Included With Home Care in Chester Springs?
Home care services for seniors may include:
Dressing, bathing, and grooming assistance
Toileting and incontinence care
Mobility assistance
Medication reminders
Safety and fall prevention
Meal planning and preparation
Laundry
Light housekeeping
Grocery shopping, prescription pickup, and other errands
Transportation to social activities or doctor appointments
In-home care in Chester Springs, PA, is an essential part of the community, as it allows seniors to age in place and maintain their independence. This type of care enables individuals to receive the support they need while remaining in the comfort and familiarity of their own homes. The services provided by in-home care providers not only address the physical and medical needs of seniors but also contribute to their overall quality of life. 
Providing exceptional Home Care for seniors and families in West Chester, Chester County, Delaware County areas including; West Chester, Exton, Downingtown, Chester Springs, Malvern, Paoli, Media, and Villanova, PA.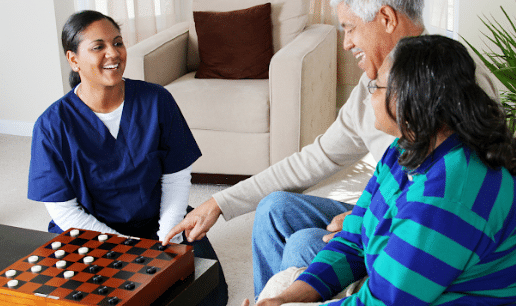 Companion Care for Chester Springs Seniors
Companion care services provide valuable support and companionship to individuals in need of assistance and connection. In Chester Springs, PA, seniors can benefit from the services offered by Harmony Companion Home Care and Home Care Assistance. These services are designed to cater to the physical, emotional, and social needs of seniors, helping them maintain a high quality of life in the comfort of their own homes.
Companion care services in Chester Springs, PA encompass a wide range of activities and assistance. Trained caregivers are available to provide companionship, engage in meaningful conversations, and offer emotional support to seniors. They can also assist with daily tasks such as meal preparation, medication reminders, and light housekeeping. By providing consistent and compassionate care, companion care services aim to enhance the overall well-being of seniors and promote a sense of belonging and connection within the community.
Personal Care Services for Chester Springs Seniors

Personal care services in Chester Springs, PA provide essential assistance and support to individuals who require help with daily activities, enhancing their independence and overall well-being. These services are designed to cater to the unique needs of seniors, ensuring that they receive the necessary support to maintain a high quality of life. Personal care services encompass a wide range of tasks, including assistance with bathing, dressing, grooming, and medication management. Trained caregivers are adept at providing personalized care that respects the dignity and privacy of each individual.
In addition to helping with physical tasks, personal care services also focus on promoting emotional well-being. Caregivers often serve as companions, offering a listening ear and engaging in meaningful conversations. This social interaction is crucial for seniors who may be at risk of isolation or loneliness. By providing companionship and emotional support, personal care services contribute to the overall happiness and mental well-being of seniors in Chester Springs. Caregivers can also assist with light housekeeping, meal preparation, and transportation, ensuring that seniors can continue to live comfortably and independently in their own homes.
Read the kind words from previous clients. Our testimonials and reviews help families discover how dedicated we are to customer satisfaction.
Learn how Harmony Companion Home Care will make a difference in the life of a senior you love. Read our mission, and the process we use to provide the best service possible.
Which Hospitals are Near Chester Springs?
There are several hospitals in close proximity to Chester Springs, PA, providing accessible medical care for the community. One such hospital is Chester County Hospital, located in West Chester, PA, approximately 9 miles away from Chester Springs. This 250-bed facility offers a wide range of medical services, including emergency care, surgical procedures, and specialized treatments. The hospital is known for its state-of-the-art technology and highly trained medical professionals who provide excellent care to their patients.

Another hospital near Chester Springs is Paoli Hospital, situated in Paoli, PA, just 4 miles away. Paoli Hospital is a 231-bed facility that offers comprehensive medical services and has a strong reputation for its high-quality care. The hospital's specialties include orthopedics, cardiology, oncology, and neurology, among others. Paoli Hospital is also equipped with advanced medical technology and a skilled team of healthcare providers who are dedicated to delivering exceptional care to the community.
How Much Does Senior Home Care Cost in Chester Springs?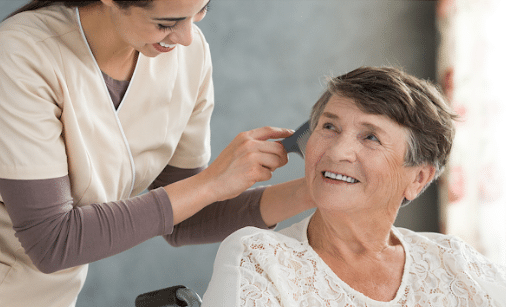 The cost of in-home care varies widely across the country [2]. The national median cost for a home health aide is $27 per hour. You could pay as little as $19.50 or less per hour for a home health aide in Louisiana or as much as $34.50 or more per hour in Washington state.
Does Medicare Cover Home Care in Chester Springs?
No, Medicare does not cover 24-hour at-home care [3].
Looking for in-home care in the Malvern, PA area? Learn more about our non-medical home care options including companionship, safety, meal preparation, and more.
Ready to get started? Click below and fill out our form. We will connect with you, answer your questions, and provide information on how home care works.
How Do You Know When a Parent Needs Home Care?
The easy answer is that you should trust your gut. If you worry that your loved one requires 24-hour care, you are probably right. Here are some specific things you can look for to know when it's time to consider 24-hour at-home care for your parent:
Repeated accidents. Your loved one may need to be monitored more closely if they repeatedly stumble, fall, or even have close calls.
Physical care requirements change. If you can no longer meet the physical requirements of your caregiving duties, you should consider bringing in 24-hour care rather than risking your own health and safety to care for your parent.
Your loved one has Alzheimer's disease or dementia. If they are at risk of wandering off, leaving a stove turned on, or are experiencing "sundowning," they may need more care than you can provide alone.
You experience caregiver burnout. Caring for a loved one can be physically and emotionally draining. Whether you need a short break or full-time help, caregiver burnout is an extremely valid reason to bring in 24-hour home care for your parent.
24-hour in-home care involves around-the-clock assistance with activities of daily living such as toileting, bathing, grooming, eating, and more.
How Do You Choose the Right Caregivers in Chester Springs?

Here are some questions you can ask to find the right home-care agency for your loved one :
How do you provide seniors with high-quality care?
What type of employee screening do you do?
How do you train and monitor caregivers?
Do you provide any financial assistance?
How do you handle billing and expenses?
Will the agency work directly with you, your loved one, and health care providers?
How are problems addressed and resolved?
What procedures are in place for emergencies?
When can services begin?
About Chester Springs, PA
Map of Chester Springs, PA
Located in southeastern Pennsylvania, Chester Springs is a vibrant community known for its picturesque landscapes, rich history, and diverse cultural offerings. This charming town is nestled in the rolling hills of Chester County, providing residents with breathtaking views of the surrounding countryside. Chester Springs is home to numerous parks, nature preserves, and trails, making it an ideal destination for outdoor enthusiasts.
Whether it's exploring the sprawling Marsh Creek State Park, wandering through the serene French Creek State Park, or hiking along the scenic trails of the Valley Forge National Historical Park, there is no shortage of opportunities to connect with nature in this beautiful area.
In addition to its natural beauty, Chester Springs is steeped in history. The town dates back to the 18th century and many of its historic buildings have been preserved, offering visitors a glimpse into the past. The Mill at Anselma, a working grist mill built in 1747, is a prime example of the town's rich heritage.
Chester Springs also boasts a vibrant arts and culture scene, with art galleries, theaters, and music venues scattered throughout the area. From attending a play at the People's Light and Theatre Company to exploring the collections at the Chester Springs Studio, residents and visitors alike can immerse themselves in the creative expressions of the community. With its natural beauty, historical significance, and cultural attractions, Chester Springs offers a truly enriching experience for individuals seeking a fulfilling and rewarding lifestyle in a welcoming community.
Map of Driving Directions from Chester Springs to Harmony Companion Home Care
Driving Directions from Malvern to Harmony Companion Home Care
Chester Springs
Pennsylvania
Head 
west
 on 
PA-113 S
/
Kimberton Rd
 toward 
PA-113 N
Turn 
left
 onto 
Upper Pine Creek Rd
Turn 
right
 onto 
PA-401 E
/
Conestoga Rd
Destination will be on the left
Harmony Companion Home Care
81 Lancaster Ave UNIT 212, Malvern, PA 1935
Senior Friendly Activities in Chester Springs
Engaging in a variety of activities specifically designed for older adults can enhance the quality of life for individuals in need of assistance in Chester Springs, PA. Seniors in this area have access to a range of senior-friendly activities that promote physical, mental, and social well-being. One popular option is joining a local senior center, which offers a wide array of activities and programs tailored to the needs and interests of older adults.
These centers often organize fitness classes, such as yoga or tai chi, which can help seniors maintain their physical health and flexibility. Additionally, they may offer cognitive stimulation activities, such as puzzles and memory games, to keep the mind sharp and active. Social activities, such as group outings or game nights, are also common, providing opportunities for seniors to connect with others and build meaningful relationships.
Chester Springs, PA also boasts beautiful outdoor spaces that offer various recreational opportunities for seniors. For instance, seniors can visit Marsh Creek State Park, which offers scenic walking trails and picnic areas. Walking is a low-impact exercise that can be enjoyed by seniors of all fitness levels, promoting cardiovascular health and overall well-being. Another option is to visit local community gardens, where seniors can engage in light gardening activities, such as planting flowers or tending to vegetables.
Gardening not only provides physical activity but also offers a sense of purpose and accomplishment. Moreover, seniors can participate in local community events, such as art fairs or music festivals, which provide a vibrant atmosphere and opportunities for cultural enrichment. By participating in these senior-friendly activities, individuals in need of assistance in Chester Springs, PA can continue to lead fulfilling and enjoyable lives, fostering a sense of purpose and contentment.